Welcome to: Cross Winds Family Campground
Summer Operative Farmhouse Hours
Sun thru Thurs: 9:30 A.M. to 6:00 P.M.
Fri and Sat: 9:30 A.M. to 6:30 P.M.

Business Phone #:

(336) 853-4567
FOR AFTER HOUR URGENT CAMPGROUND MATTERS: PLEASE CALL (336) 853-4567, PRESS 0 (zero)
FOR MEDICAL OR LIFE-THREATENING EMERGENCIES: CALL 911
FOR OTHER EMERGENCIES:
CALL THE LOCAL SHERIFF'S OFFICE (336) 249-0131
Welcome to our Campground!
What we have to sell

:

CASH ONLY!!!

Firewood bundles, bags of ice, Hats, Propane, Short Sleeve T-shirts, Magnets and Stickers.
CROSS WINDS FAMILY CAMPGROUND GIFT CERTIFICATES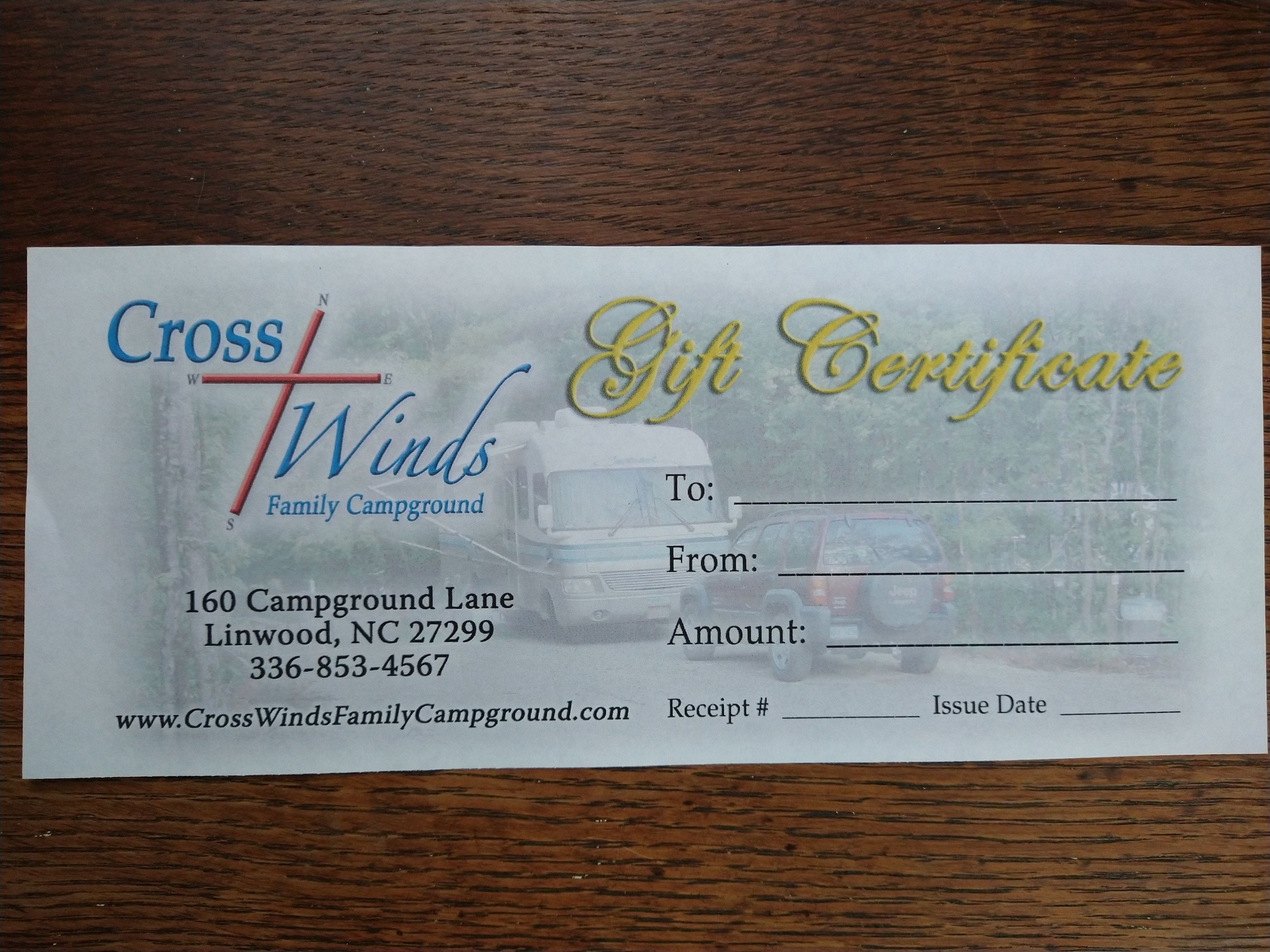 We do Sell Cross Winds Family Campground Gift Certificates.
It will have to be purchased in person and
paid WITH Cash Only!
Cross Winds Family Campground Site Map
Propane Fill-up
If you need propane filled, please call or go directly to the Farmhouse,
(336) 853-4567
.
Only Certified Personnel are able to fill tanks and RV's. This service is available
during business hours only
!
Paid with Cash Only!
To All customers that camp with us! We appreciate your business.
If you expect to arrive after hours, please call the Farmhouse to receive instructions from our Service Clerk.
No Early Arrivals or Unexpected Late Departures!! We request that each guest arrives at the Check-in time or later to assure that the assigned site is safe and clean before arrival. The arrival and departure times are a part of the Campground Policies and we request that each guest follow them like the other policies in order to have a safe and an enjoyable stay.
Once you make your reservation, it is your responsibility to review your reservation confirmation email to confirm dates and details of your reservation. If you have questions, please don't hesitate to call the office. Please review our policies prior to your stay for an enjoyable stay.
Cross Winds Family Campground owners and staff!
Summer Operative Farmhouse Hours
Sun thru Thurs: 9:30 A.M. to 6:00 P.M.
Fri and Sat: 9:30 A.M. to 6:30 P.M.
Contact Us Today!
(336) 853-4567